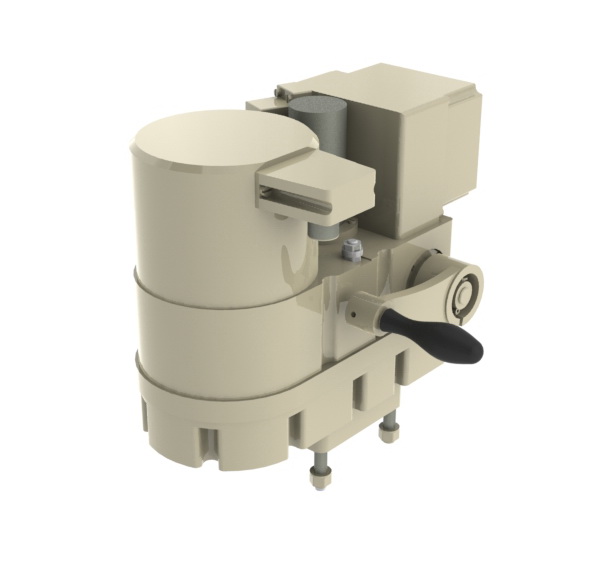 Provides for a bore diameter of 45mm under valve stem, and adjustment range oftorque limits of output shaftof 100…300 Nm.
Designed to operate an actuator of a shut-off valve largely at the thermal power plants.
Designed for application at heat and water supply facilities, as well as chemical, metallurgical, oil and gas processing plants, extracting industries.
Presented in 35 versions depending on the output shaft speed required by a customer, connection to valve and model of a limit switch assembly.
Parameter

Value

Connection to valve

Б

Explosion protection

–

Output shaft speed, rev/min

6, 12, 25, 50

Output shafttorque, Nm

–

Nominal

300
–

Max

450

Adjustment range of torque limits, Nm

50-350

Manual override handle torque, N(kg), at most

60(6)

Electric drive power, kW

0,35-1,1

Continuous operation time of shut-off valve

–

at nominal load, s

180
–

at max. load, s

120

Max. number of starts of shut-off valve per hour (cycles/h)

630(315)

Span of speed ratios of limit switch assembly and output shaft

2-7, 7-42, 42-250

Position sensor available:

–

Resistive signal

+
–

Inductive signal

+
–

Current signal

+

Power supply of current signal unit

–

Alternative supply, single phase, 220V, 50Hz

+
–

Constant supply 24V (loop)

+

Voltage:

–

3 ph, 380V, 50Hz

+
–

3 ph, 220V, 50Hz

+
–

single phase, 220V, 50Hz

–
Weight, kg
38

Overall dimensions, mm

297 х 346 х 276

Climatic version

Any customized

IP class

IP65

Service life, years

15