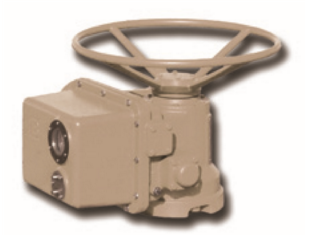 CHARACTERISTICS
Electric drives ГЗ offer a wide torque range of 50…6500 Nm and five basic typical sizes fit for various valves.

Electricdrives ГЗ may be designed as explosion-proof version acc. to 1ExdIIBT4 standard.

Electricdrives ГЗ of IP65 class provide for full dust and moisture protection. If necessary, IP67/IP68 class valve bodies may be supplied.

Electricdrives ГЗ may automatically switch frommanual operation to operation by electric drive. For ГЗ-В, Г, Д models a simple mode switching operation is provided.

Multi-turn electric drives ГЗ match a wide range of multi-turn valves, and provide safe positional operation of shut-off valves of any type or similar equipment with torque of 50…6500 Nm. If combined with an additional reducer, a torque of up to 80000 Nm may be reached, for example, for stop or ball valves of large diameters.

Multi-turn drive of УХЛ version is designed for application in moderate and cold climate.
BASIC PARAMETERS OF ELECTRIC DRIVES ГЗ-В
Motor (380V AC/3 ph/50Hz)
Shaft speed, rev/min
Adjusted number of output shaft revolutions required to shut-off(start-up) valve, rev.
Weight
N.m
kW
А
А
Standard
Customized
Min.
Max.
kg, ± 8%
ГЗ-А.70
А
70
0.18
1.2
5
24
12,18
1
26
23
ГЗ-А.100
А
100
0.25
1.5
6
24
12,18,36
1
300
38
ГЗ-А.150
А
150
0.37
1.6
7
24
12,18,36
1
300
38
ГЗ-Б-200
Б
200
0.55
2.3
12
24
12,18,36
1
300
52
ГЗ-Б.300
Б
300
0.75
2.8
16
24
12,18,48
1
300
53
 1,1
 4,3
 21
 36
ГЗ-В.600
В
600
1.5
6
32
24
12,18,48
1
400
115
 2,2
 9,8
 50
 36
ГЗ-В.900
В
900
2.2
9.8
50
24
12,18,48
1
400
120
 3,0
 11
 64
 36
ГЗ-Г.2500
Г
2500
5.5
16
105
24
12,18,36
1
400
195